Getting up close and personal with the wildlife of Alaska's bear country during the great summer salmon run.
Let's go see the bears.
With so few people and so much life, the distant places in Alaska remind us of how much awe, emotion, and majesty nature shares when it's left unfettered and wild.
We returned to Alaska to spend time getting to know its brown bears.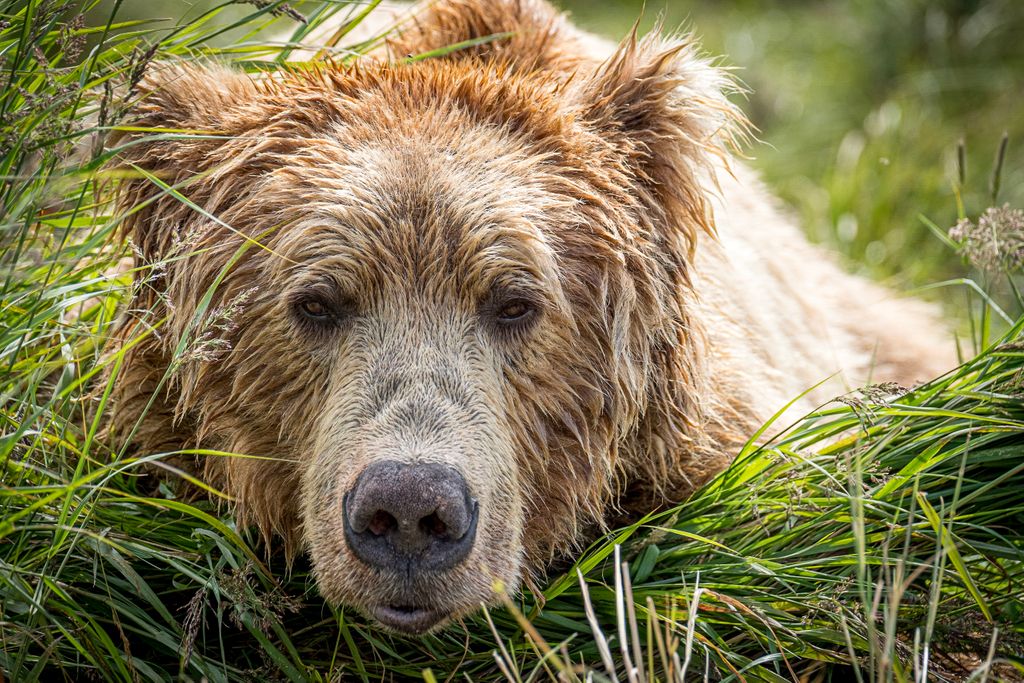 Brown bears are among the largest land carnivores on Earth – a male coastal brown bear can weigh over 1,000 pounds. These are big, fast, immensely strong animals. Accordingly, they're almost always good to keep your distance from – at least 300 yards – and take pains to avoid surprising. A suprised bear is a bad situation.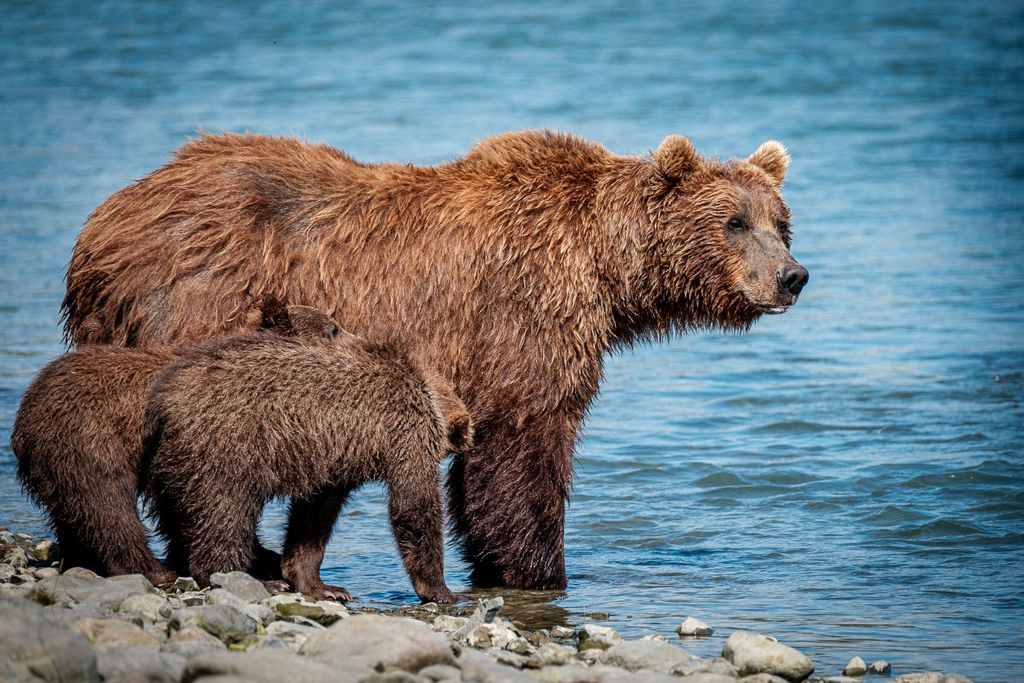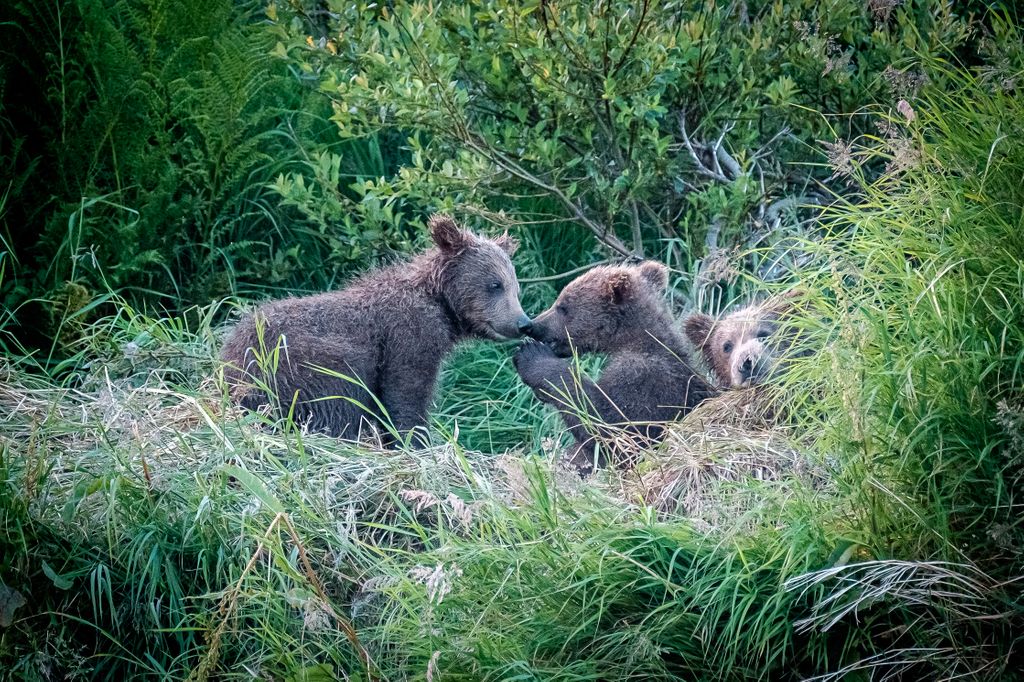 I'd been lucky enough to spend a previous summer in Alaska backpacking in Denali National Park and kayaking across Kenai Fjords National Park. They're both spectacular places. And bears aren't uncommon in Denali.
As part of the backcountry protocol there, we spent much of our days regularly shouting "Hey, Bear!" when we weren't talking to each other. It was an important precaution while bushwhacking for miles and days through thick vegetation, to avoid startling a bear that might be on the other side of a thicket.
Respect bears.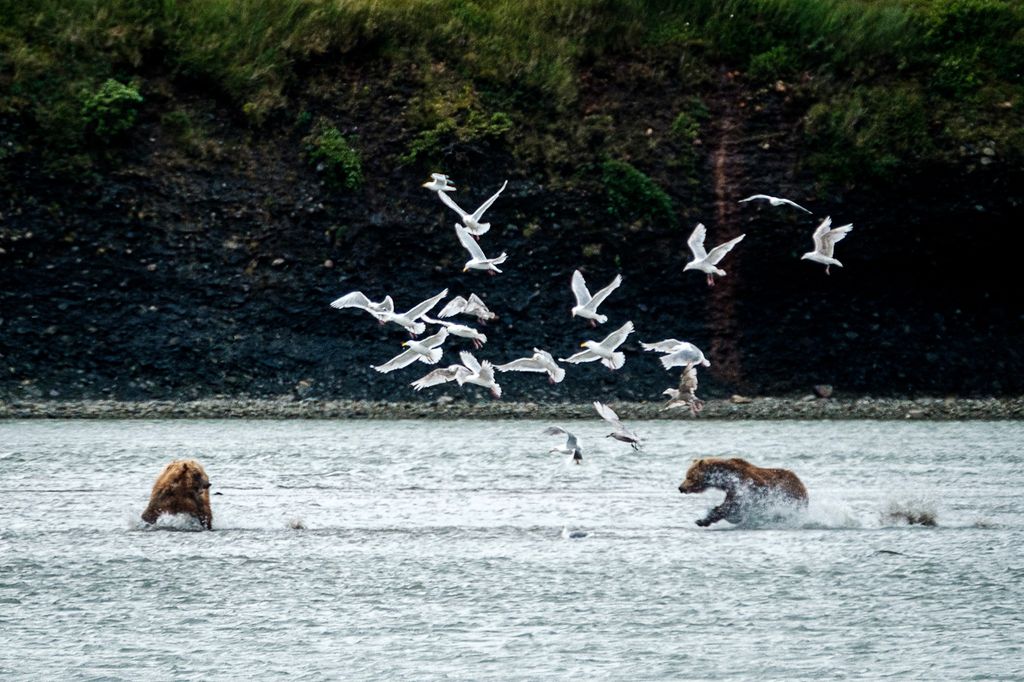 But there's a place and time where, under the guidance of a wildlife ranger, it's possible to get up close and personal. That's what we sought to find on this adventure.
Here are some of the furry characters we met during the bountiful Alaskan summer salmon run in Bristol Bay, Alaska.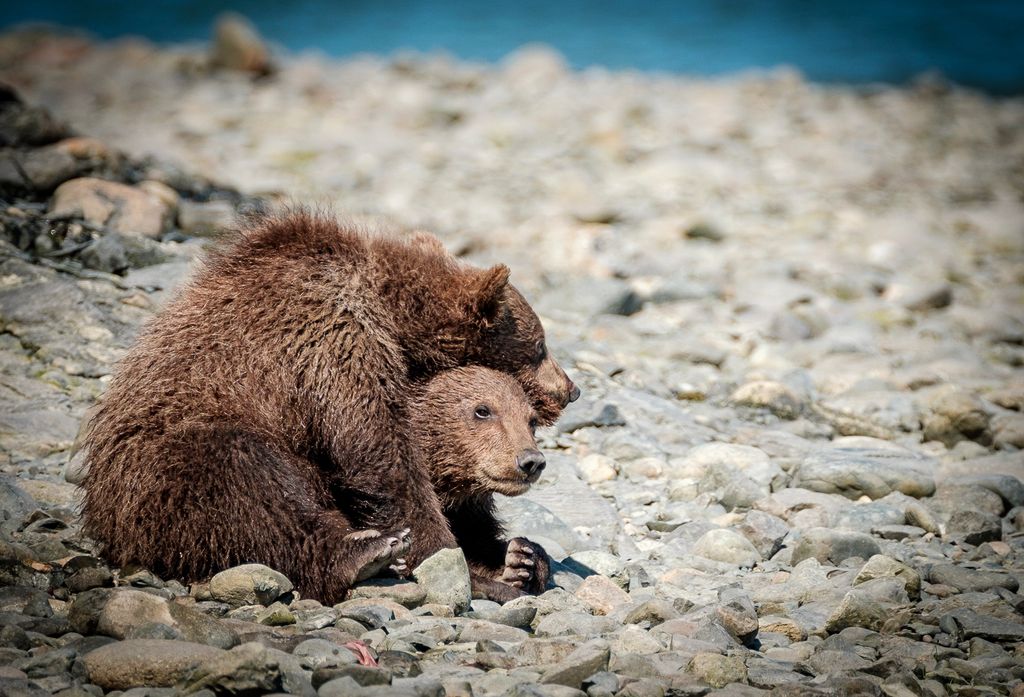 We got a chance to take in and share these magical places because humans have been responsible, with thoughtful conservation strategies, native pratices, and industries like sustainable fisheries.
But as remote as they are, they're also in danger. Industrial mining interests are lobbying to destroy these treasured, unspoiled habitats with the Pebble Mine project. This place, America's "Salmon Country" – a fishing paradise that feeds us, provides crucial jobs, and is a treasure for sportsmen and women and anyone that loves nature – is under threat.
So this was also a glimpse at the magic we all risk losing – that we have an opportunity to help conserve and protect.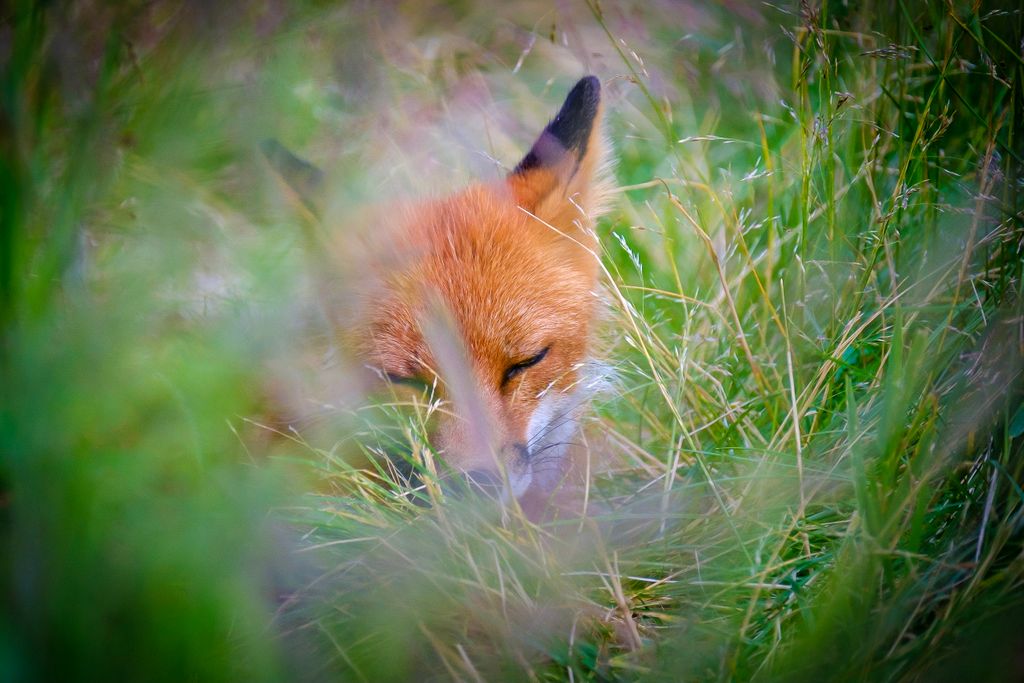 ---
The Great One
We kicked off this adventure with a return to Denali National Park, driving in from Anchorage to backpack and enjoy the stunning Alaskan summer.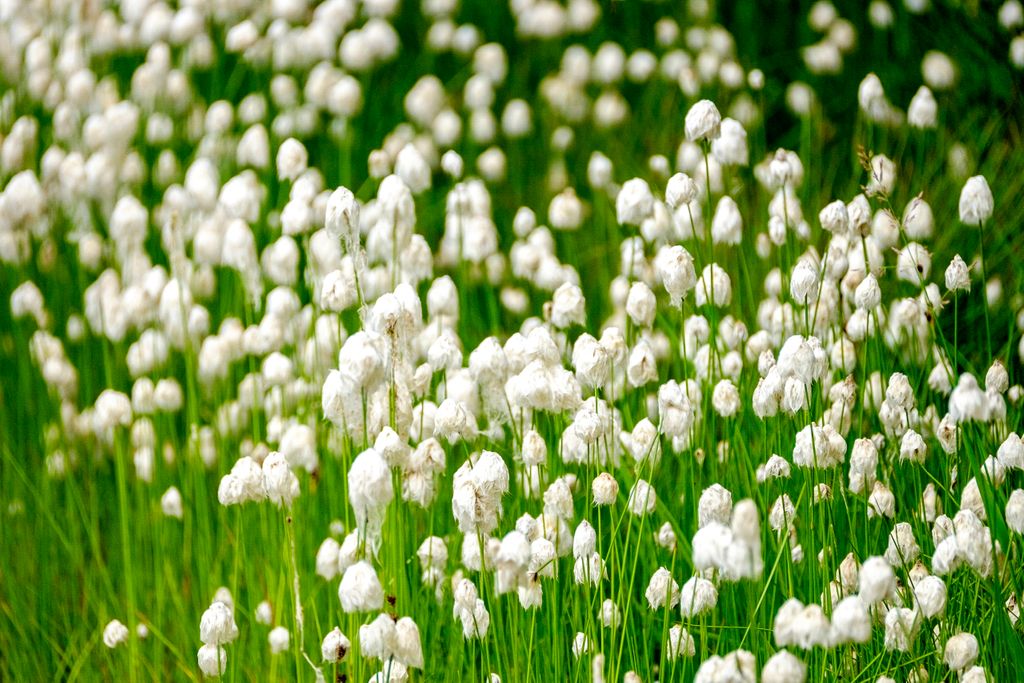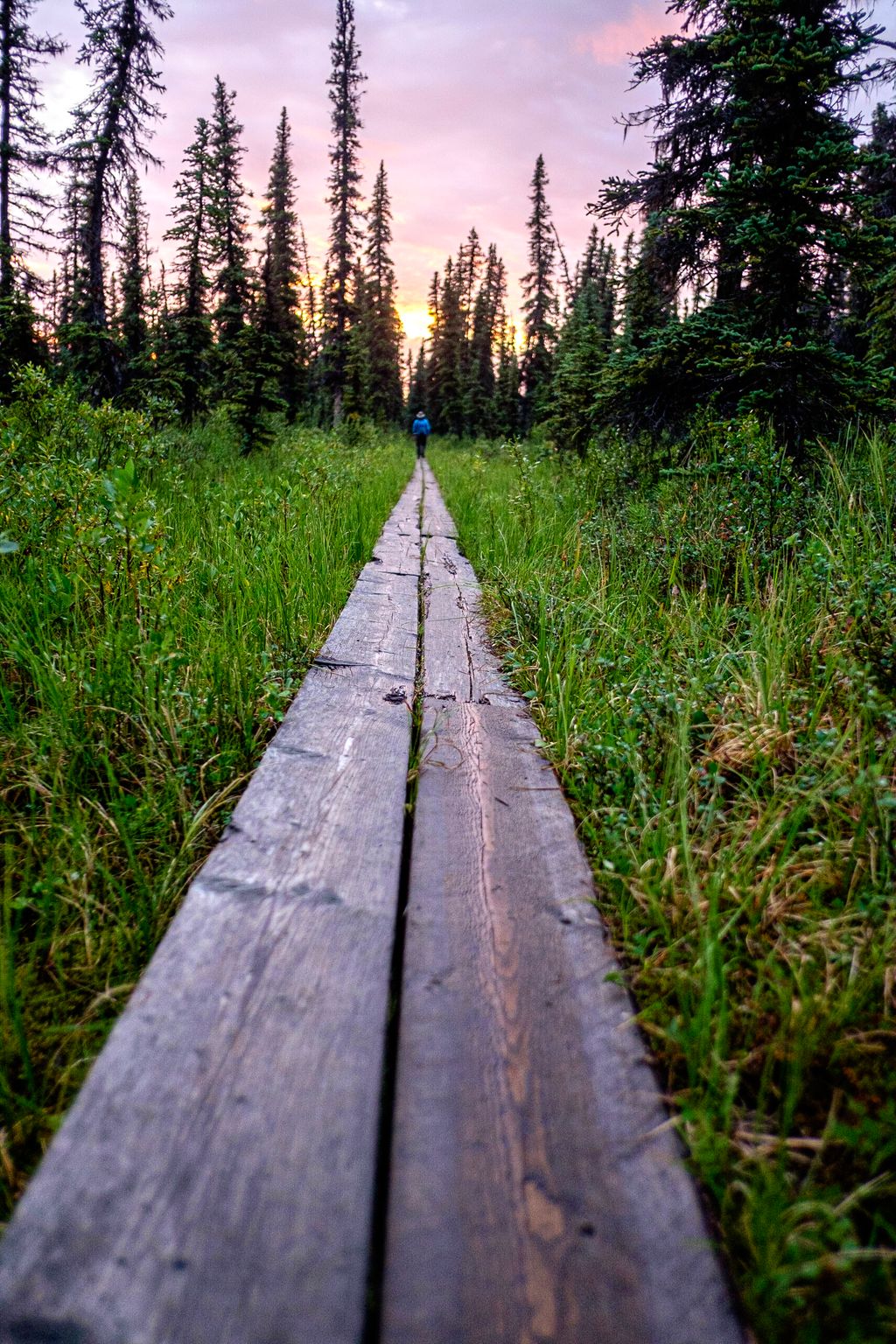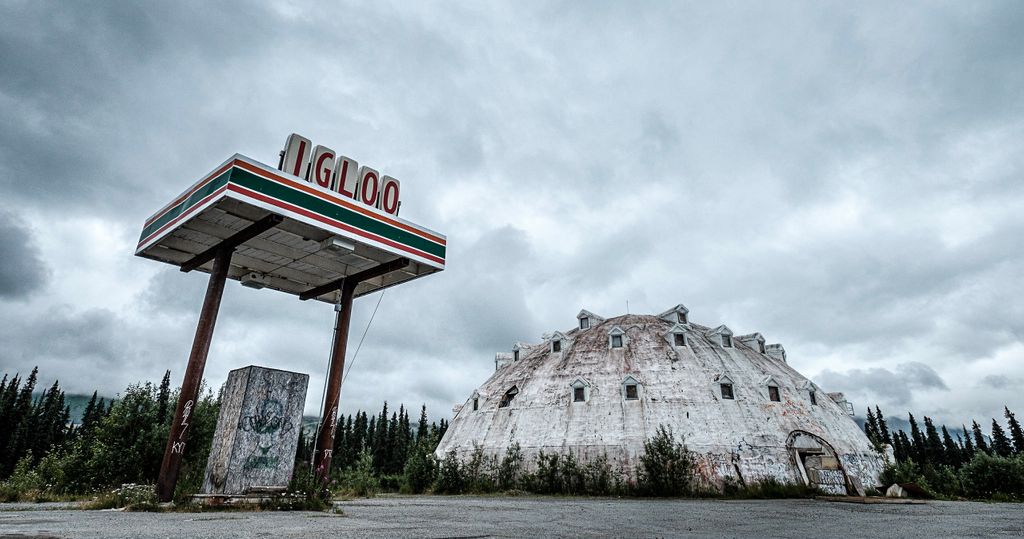 ---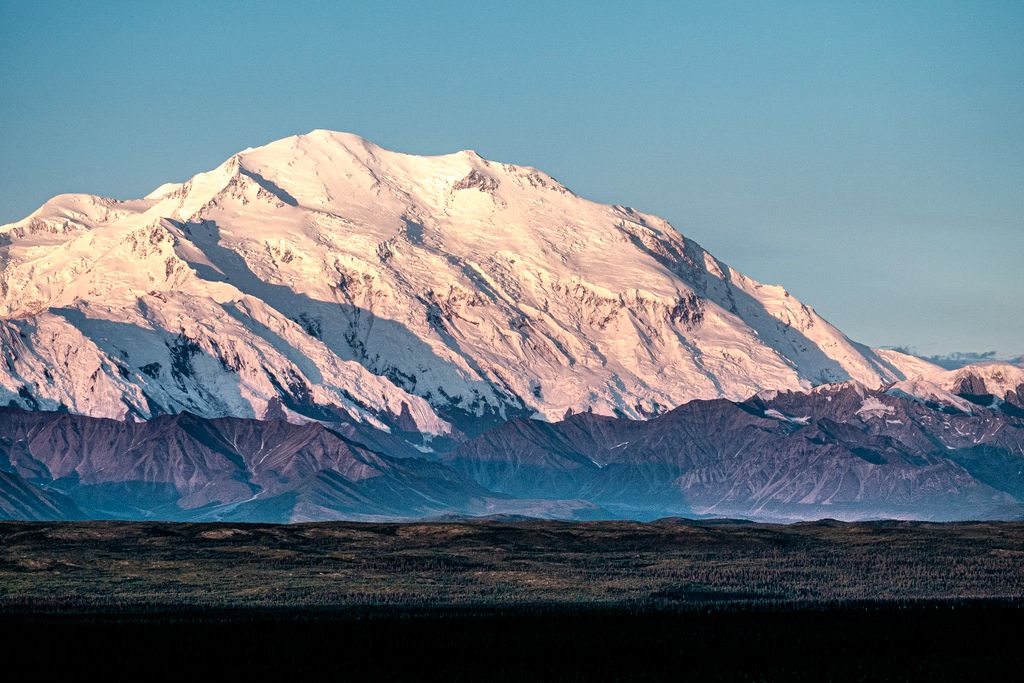 Where we're going, there are no roads
After reacclimating to backcountry life, we chartered a small seaplane to head to the more remote parts of Alaska further west. We weighed out all of our food and gear to keep to the weight limits – no easy task for folks who really enjoy both food and photography! Then we were off to more adventure.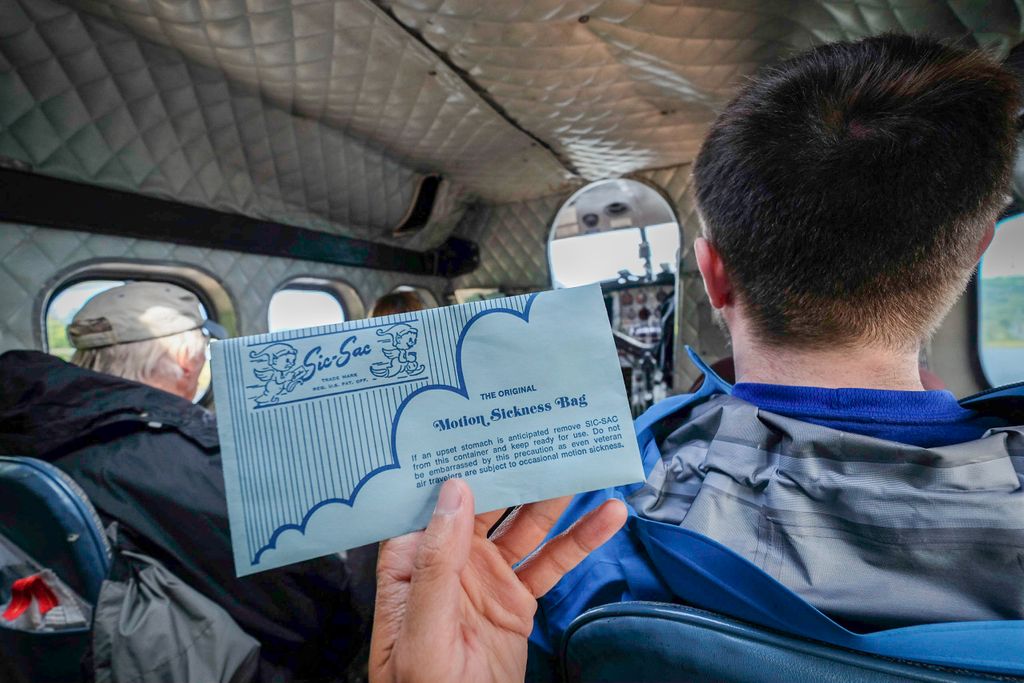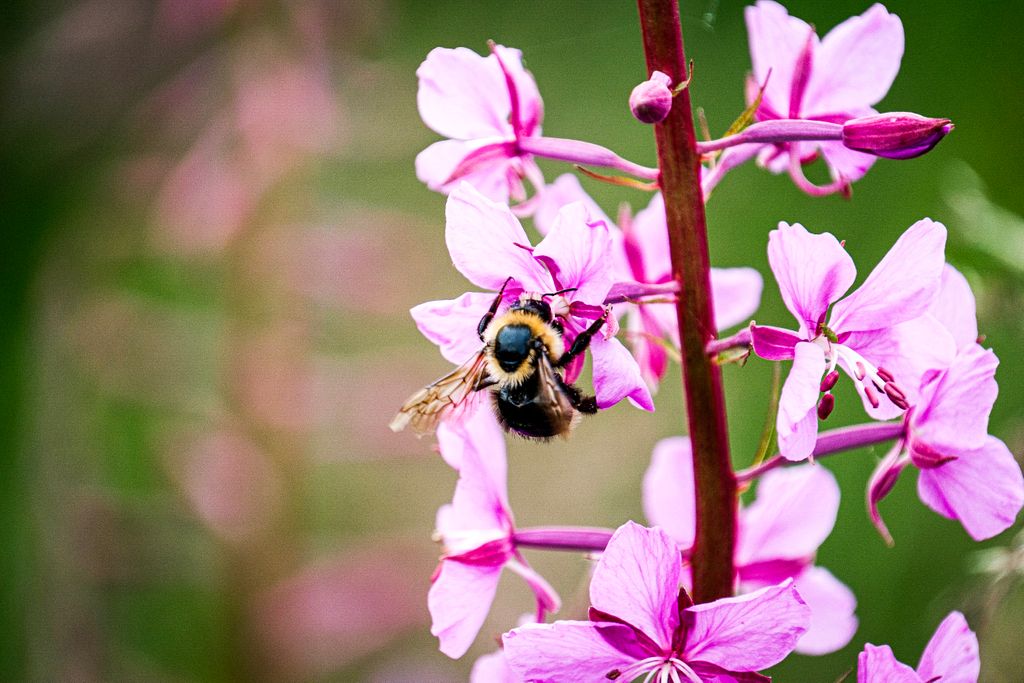 ---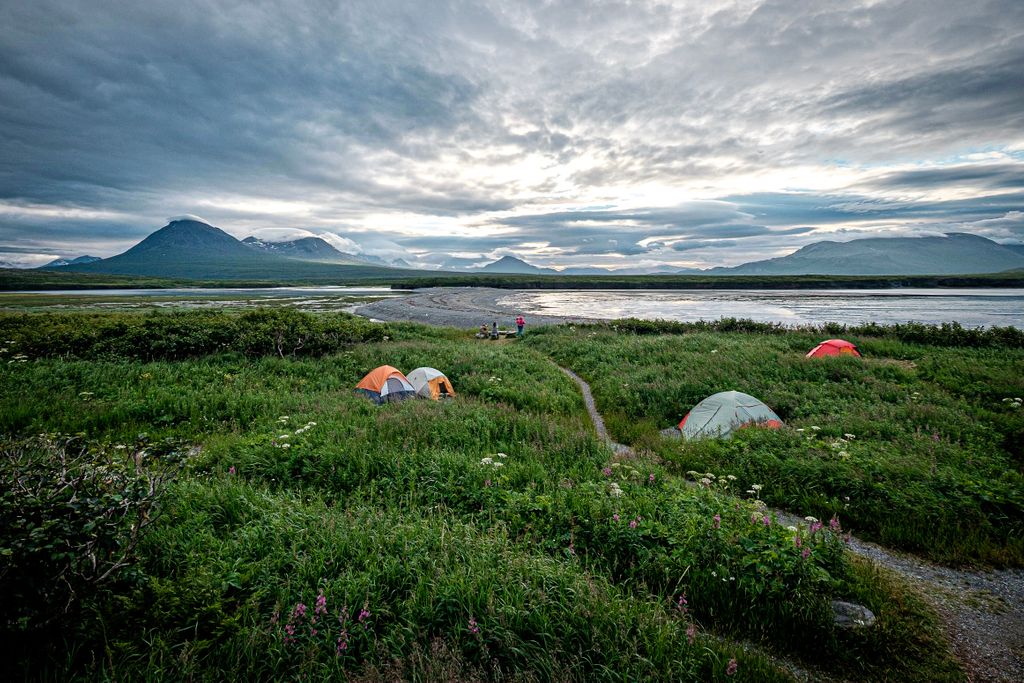 Playing chess
The world's largest concentration of brown bears congregates each summer at the river during the Alaskan salmon run. To the bears, it's the ultimate all you can eat sushi bar – the endless sushi boats on a conveyer belt kind – at the grandest scale.

But to get to the river each morning, we had to play a game of chess with tides and bears.
Between our campsite and the river was a vast bay of water, with only a narrow band of land connecting us. Our group of humans shared that thin trail with mama bears and their cubs – and the moms always have right of way. So each morning the rangers had to plot the safe moves for us to navigate around the bear families to get us to the river.
But even with the best planning of movements on the board, we had close encounters: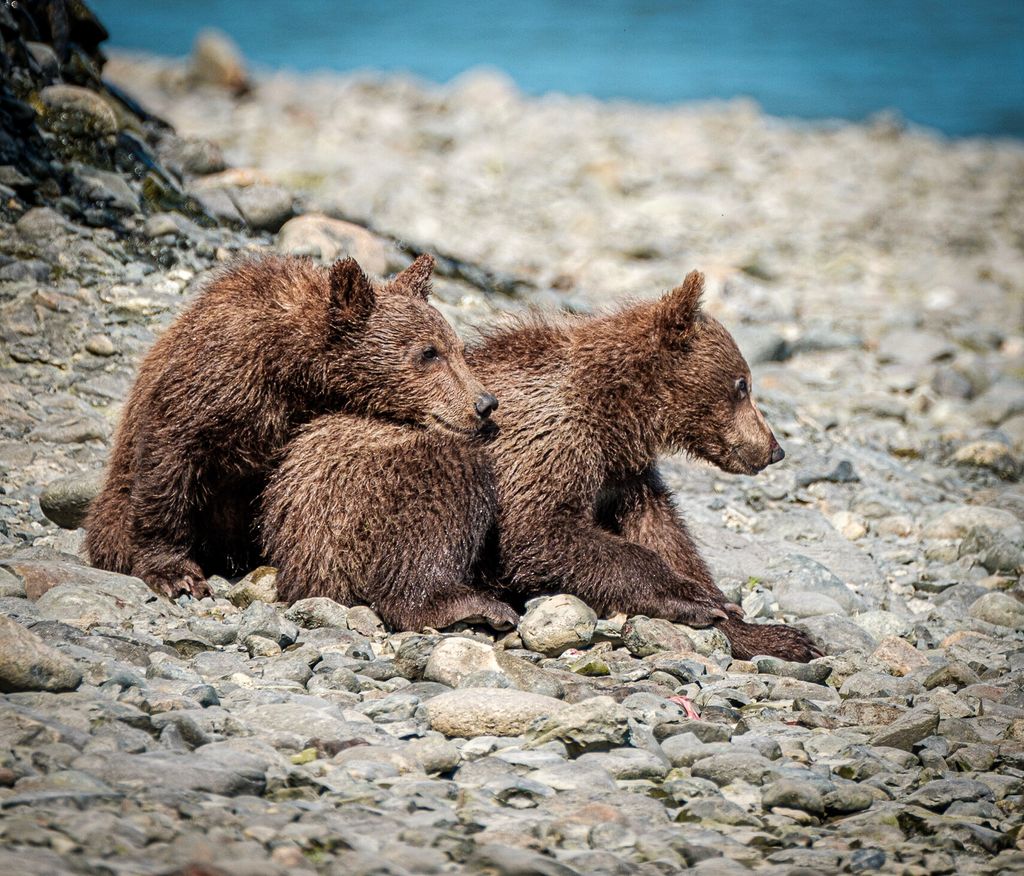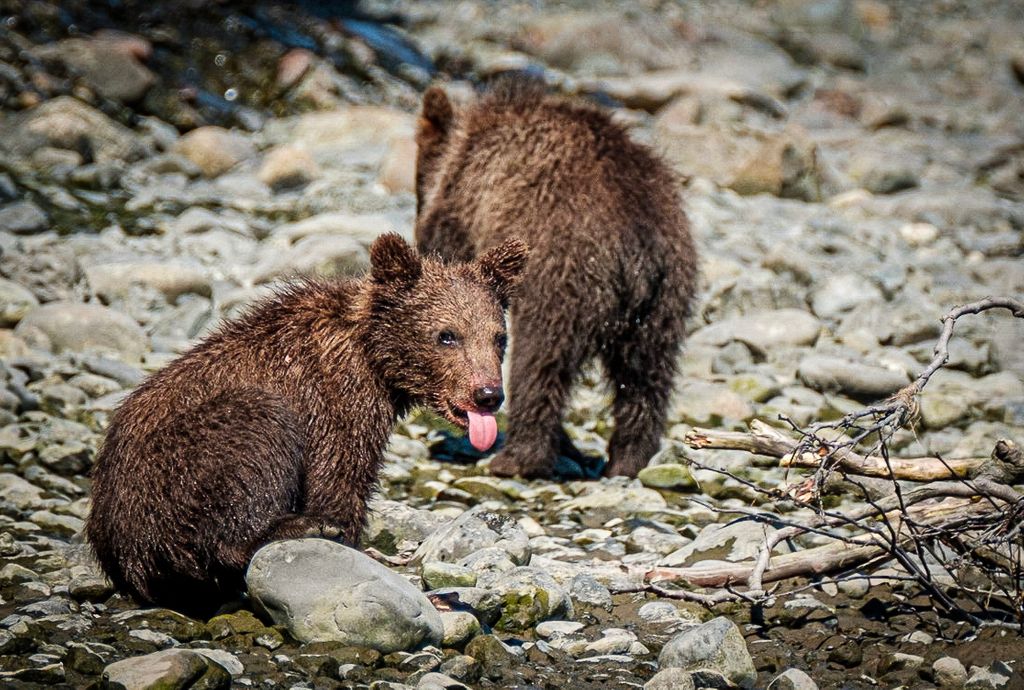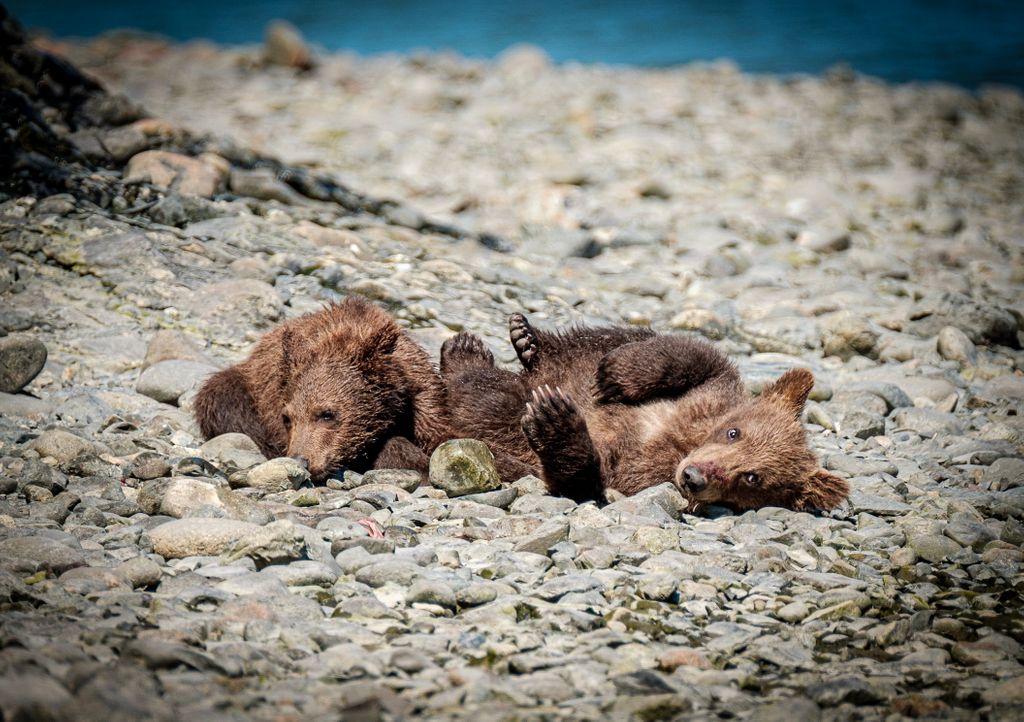 ---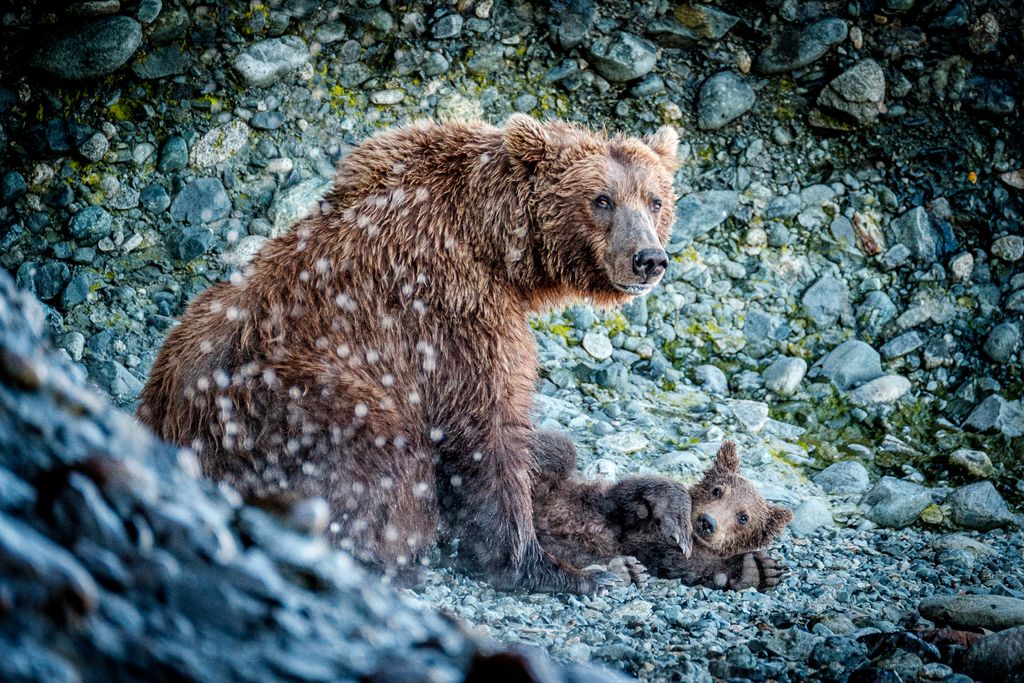 ---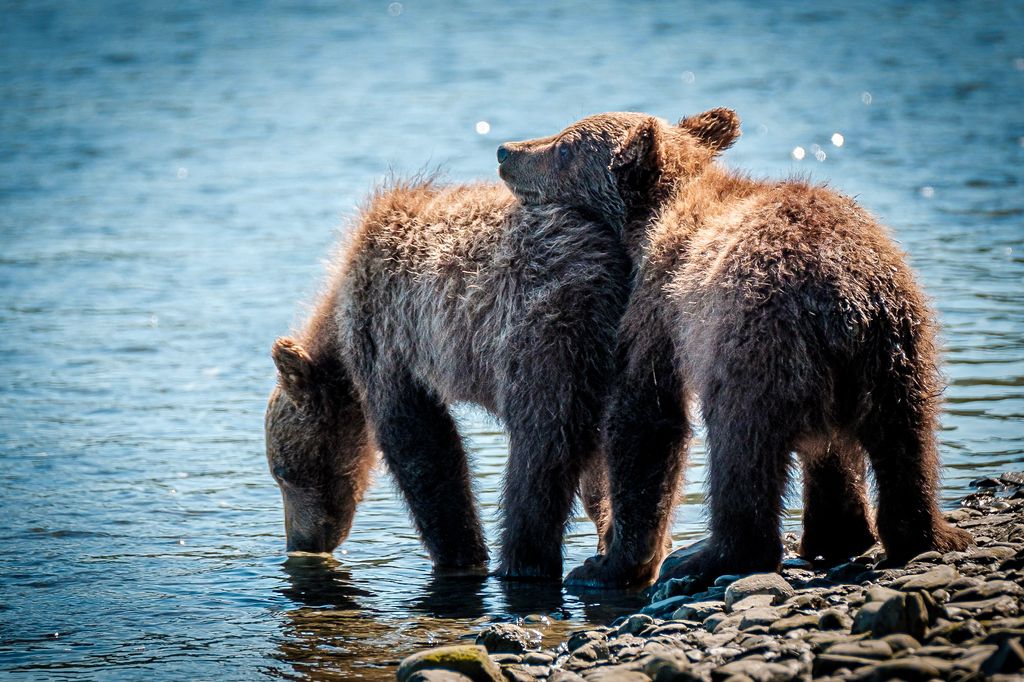 Unbearable charm
After our daily hikes to the river, we spent many many hours sitting still, doing nothing but intently observing the bears. And we couldn't get enough of it.
What we didn't expect – that became the most incredible part of this adventure – was having enough time to hang out and get to know the uniquely charming personality of each bear as an individual.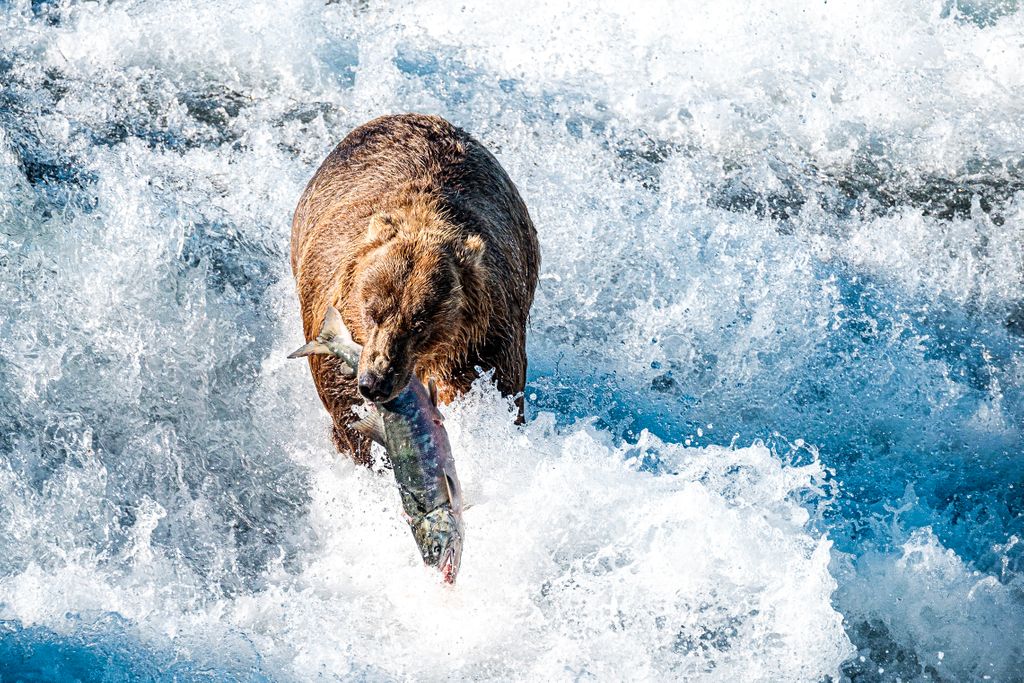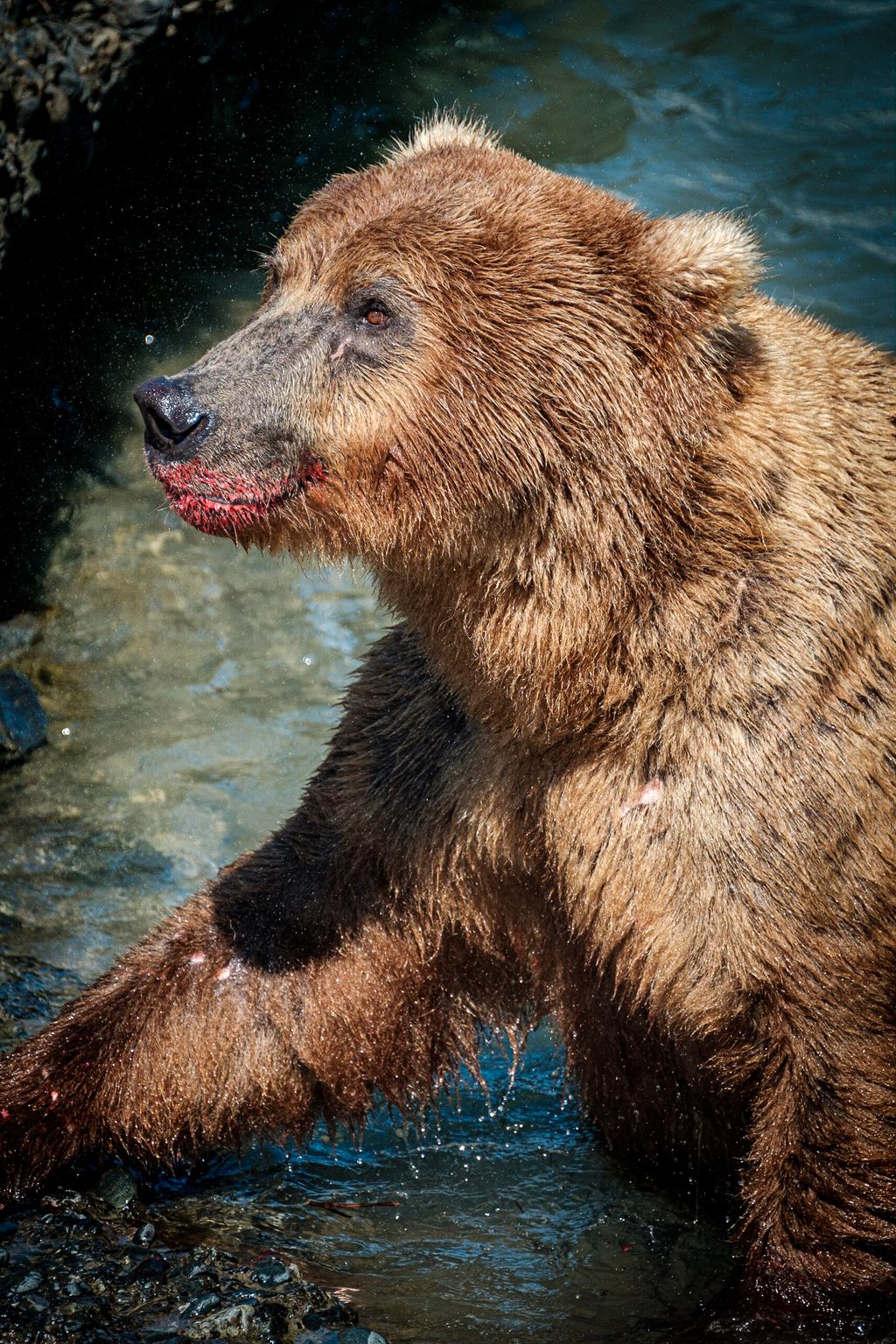 ---
Playful personalities
We ended up getting to know the bears by name, on sight – and could instantly recognize them from their unique behaviors.
There was the unforgettable "Big Ears", who always looked as cute and he was hapless. One of our favorites, he was a giant beast of a creature with adorable pom pom ears. He'd sit in the most prime fishing spot on the entire river – yet he'd be lucky to catch one salmon in the time that his companions caught dozens. Then after he finally caught one? Somehow it'd wriggle away from his inches -long claws, and he'd mope around before trying again.
"Ted" was an older male who enjoyed his ritual naps in the middle of the powerful river. "Tina Fey" had a telltale scar on his face – but his most identifying characteristic was his habit of doing "yoga" streches to the sun in his quiet wading pool area of the river.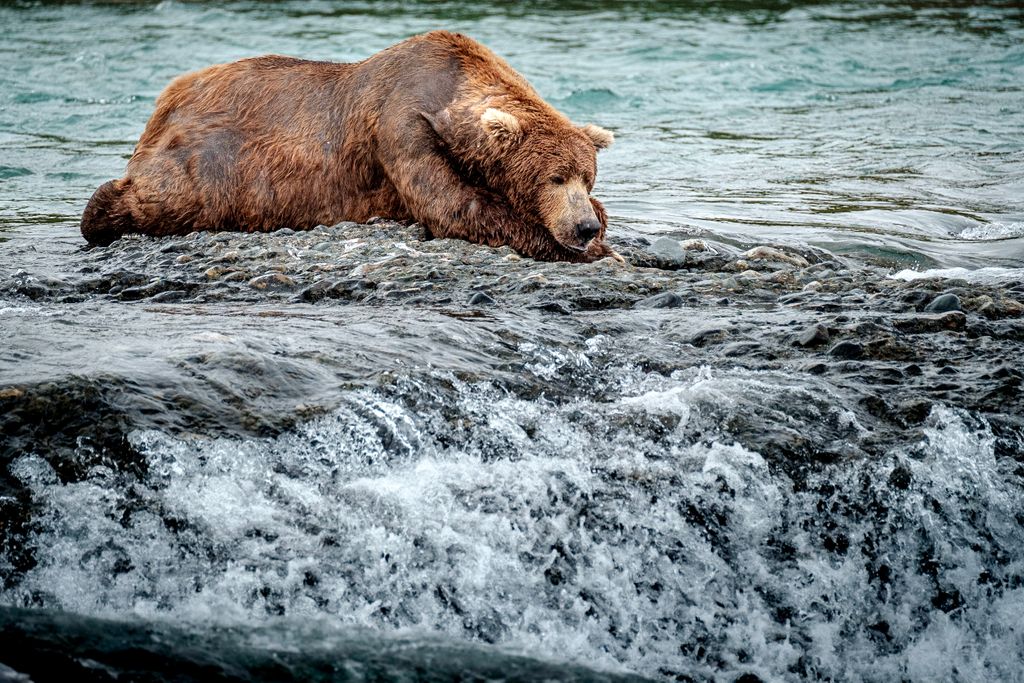 Ivory Girl
And there was our rockstar, Ivory Girl. She was the only female bear who spent time in the busiest, most competitive fishing spots on the river. Like other females, she was at least a third smaller than the males. Yet she was – by far – the greatest hunter of them all.
In the hour it took other bears to catch one salmon or none, Ivory Girl would have effortlessly speared five giant dogfish salmon from the water. She'd quickly slice the belly to check for delcious roe treats and just toss it away if she didn't find any. Or leave it for a male bear begging for food from her. Sidenote: bear begging behavior looks a lot like dog begging behavior – a little pathetic, and a lot adorable.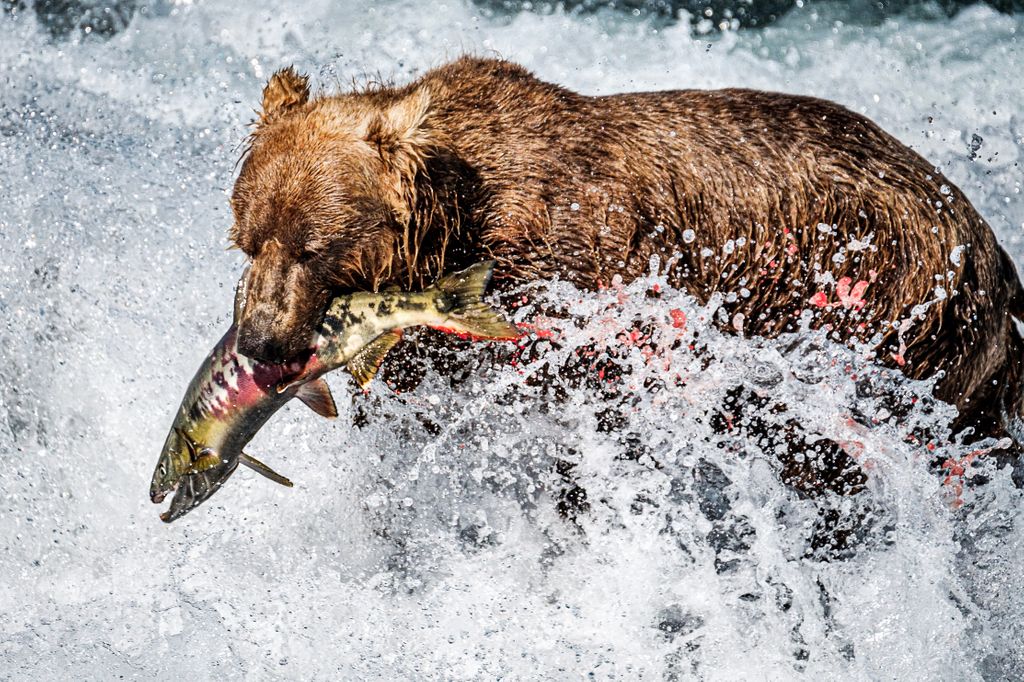 ---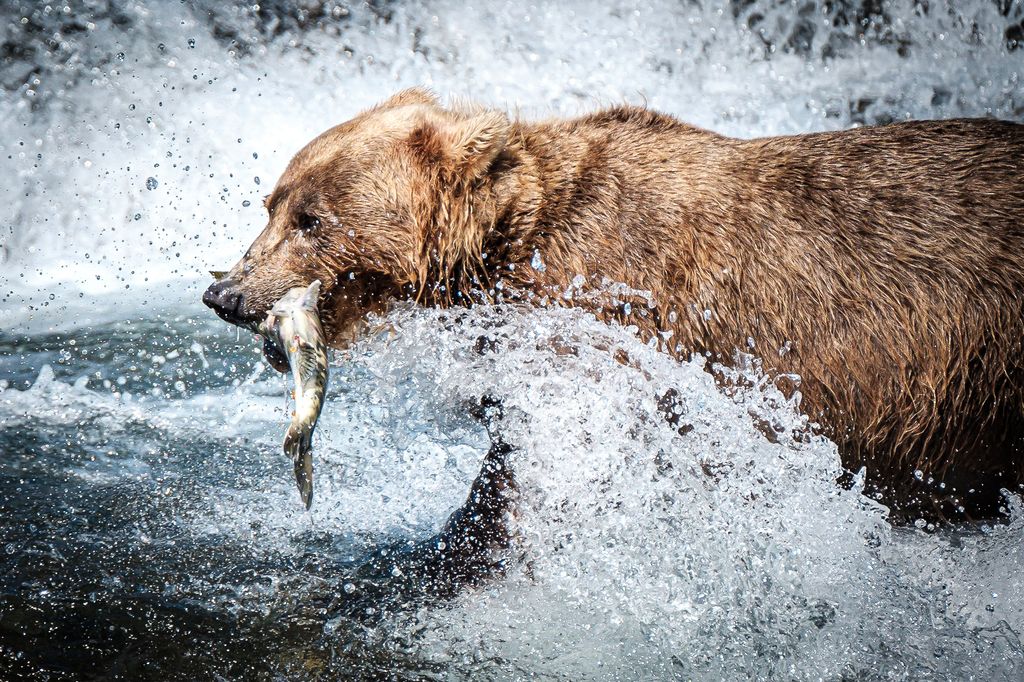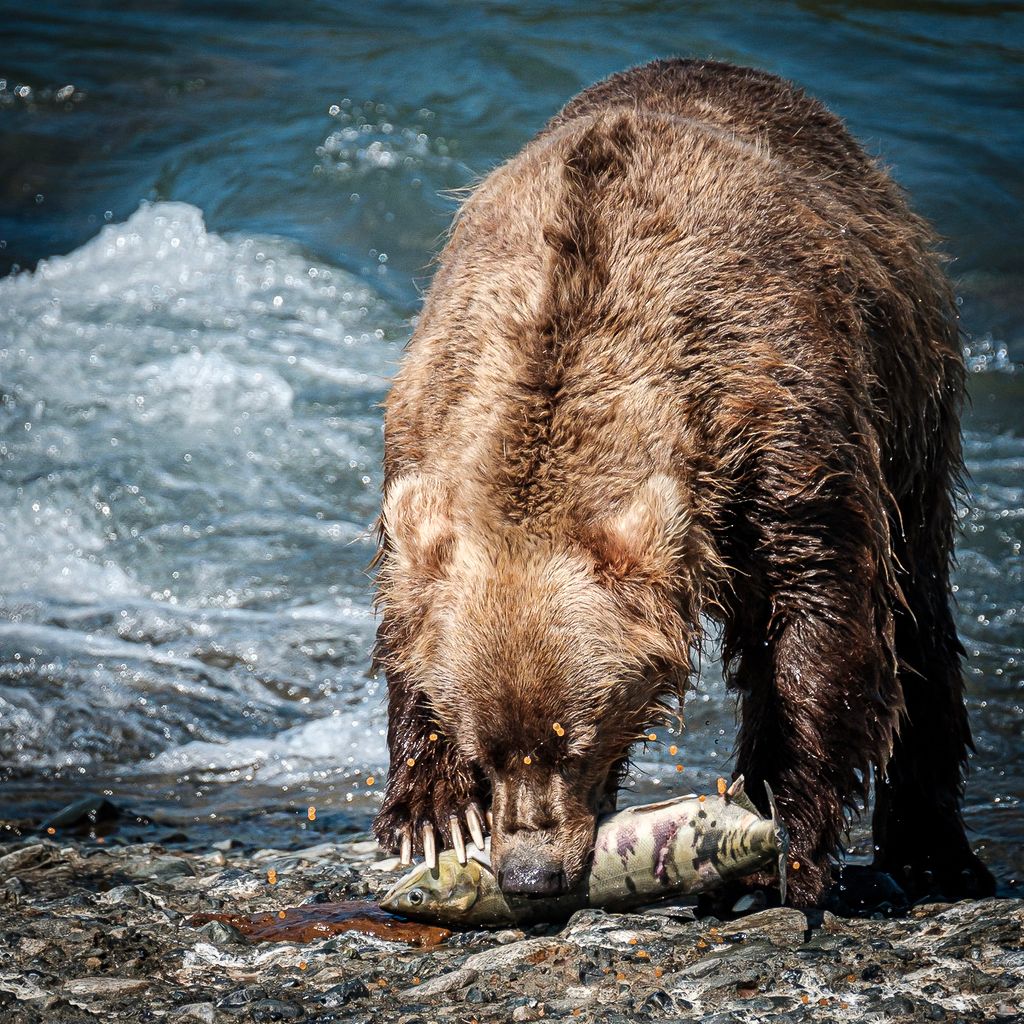 The rangers described the behavior – hygrating – as equivalent to being so satiated that you can afford to just lick the frosting off every cupcake and toss away the rest. For us the treat was watching her fish with such incredible skill.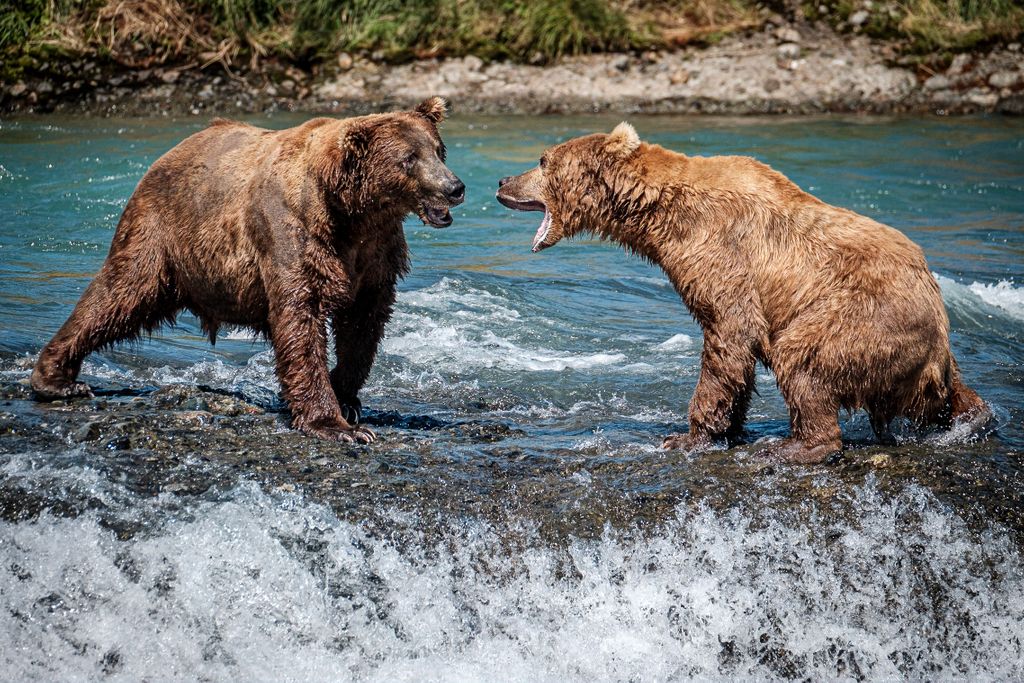 ---
Family dinner and games…
After six to eight hours of bear observation, we'd hike back to the camp. Depending on the tides, sometimes we'd be in our waders knee deep in water. But on the way, we'd often enjoy some quailty family time with the mama bears and their adorable cubs.
It was awesome seeing how much of the cubs' waking hours were just spent playing. Wresting, tumbling around, chasing, exploring rocks, experimenting with sticks, dancing, nuzzling. Play seems well conserved in the animal kingdom.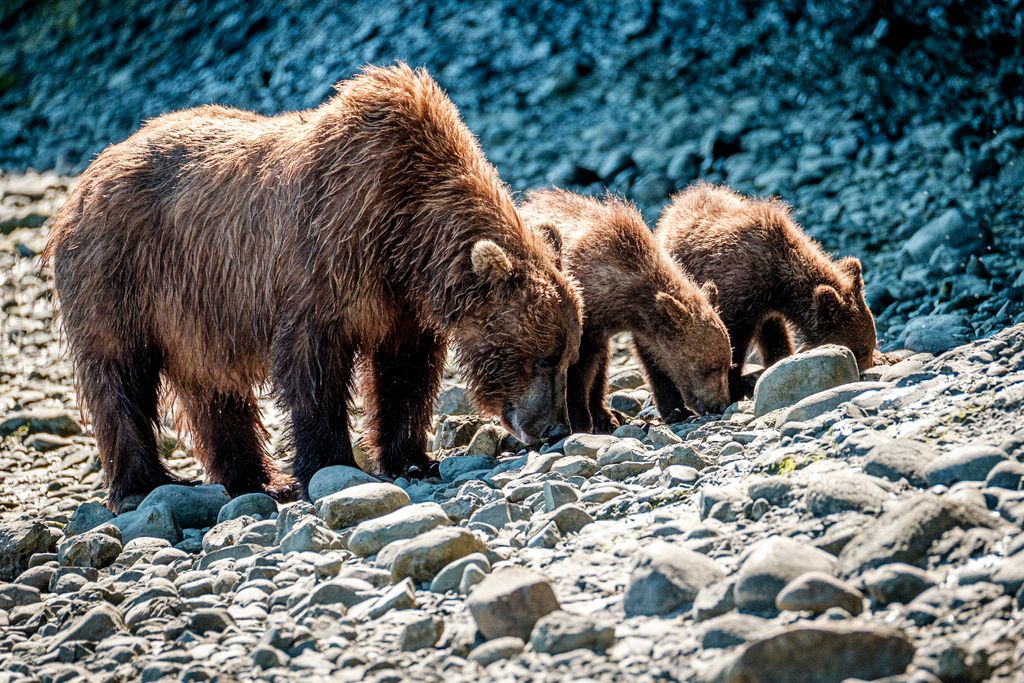 ---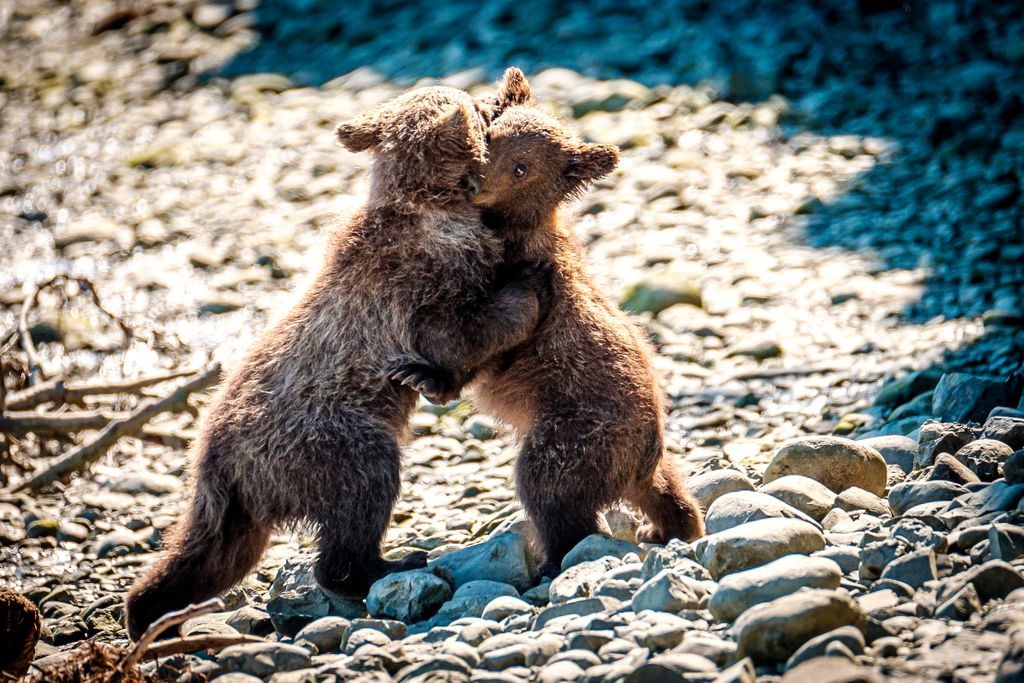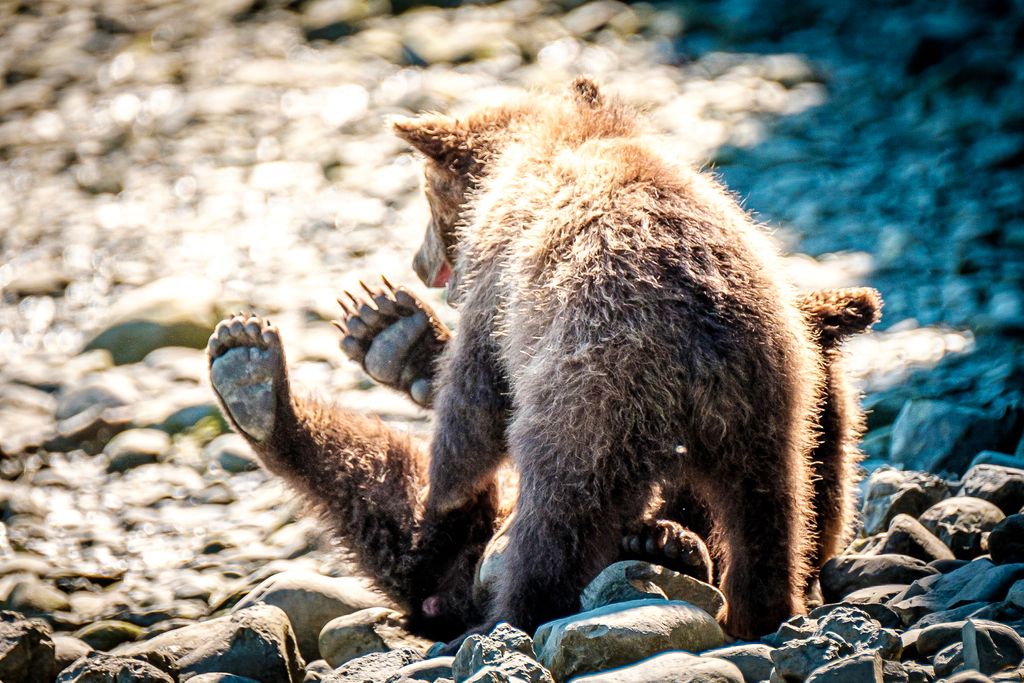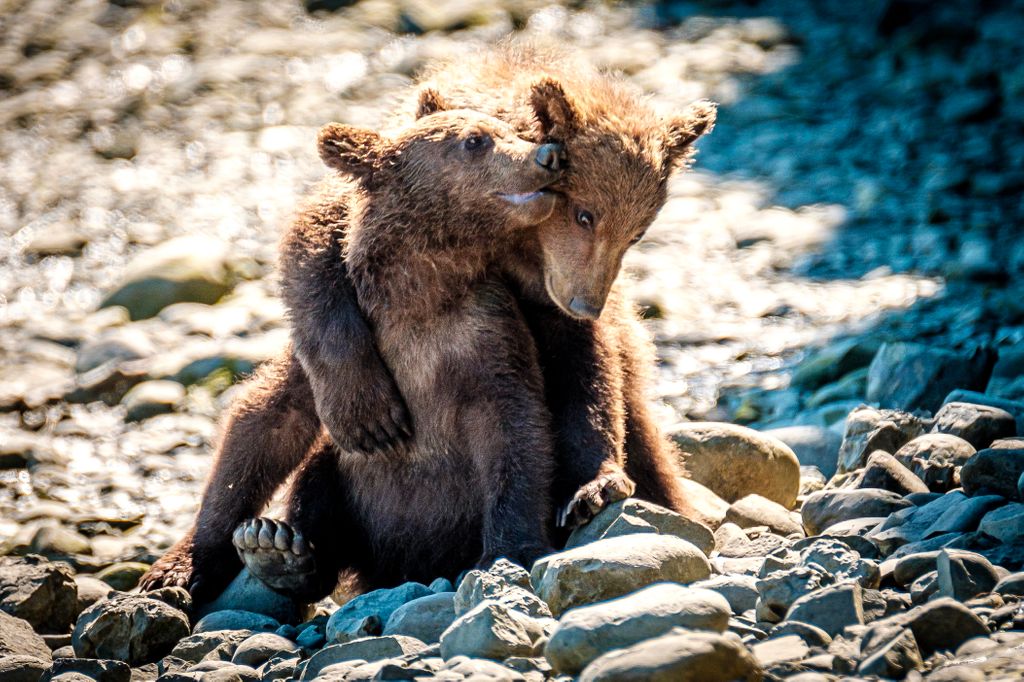 The lazy days of summer
The sun never sets in the Alaskan summer, and we appreciated every hour of it. Every day we spent with the bears of Bristol Bay was magical. Recognizing old habits, seeing new behaviors, getting to know these incredible creatures.
They were playful, unique, joyful – and at times, delightfully lazy. Or rather, just contentedly chill. It was a good reminder of how special every individual and every moment is. Bear or otherwise.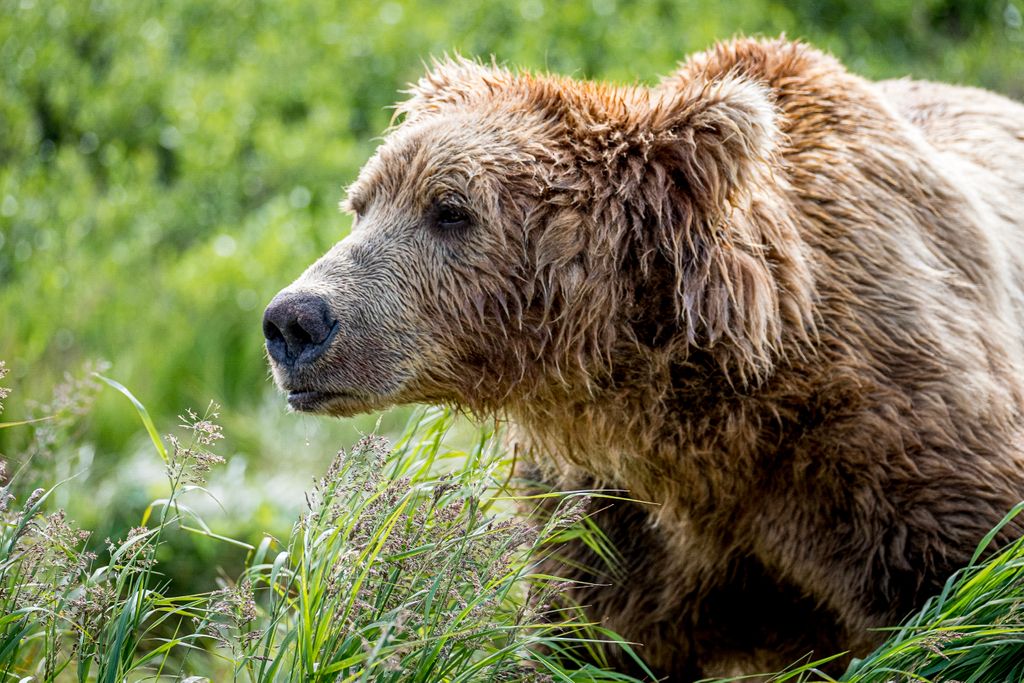 ---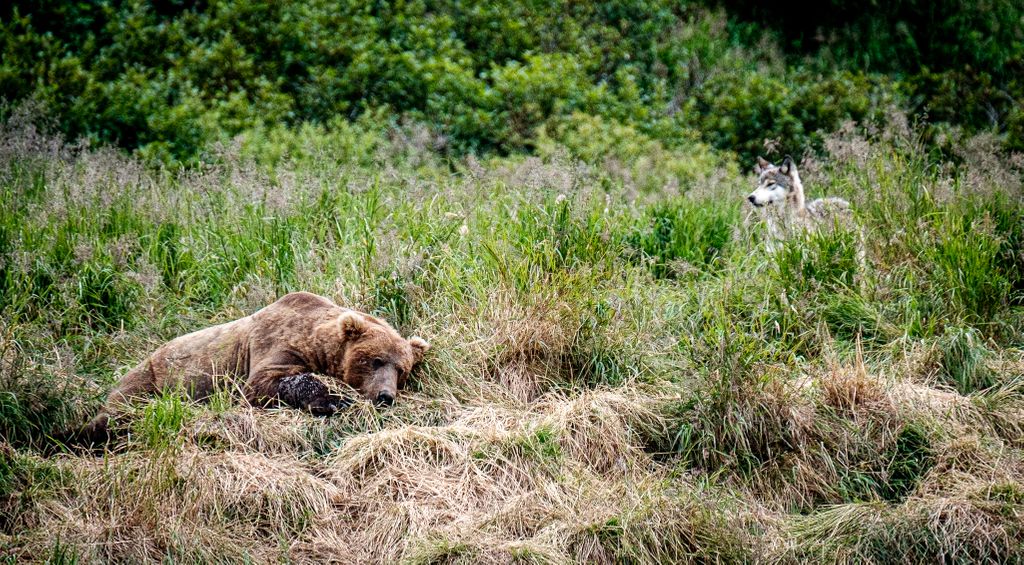 ---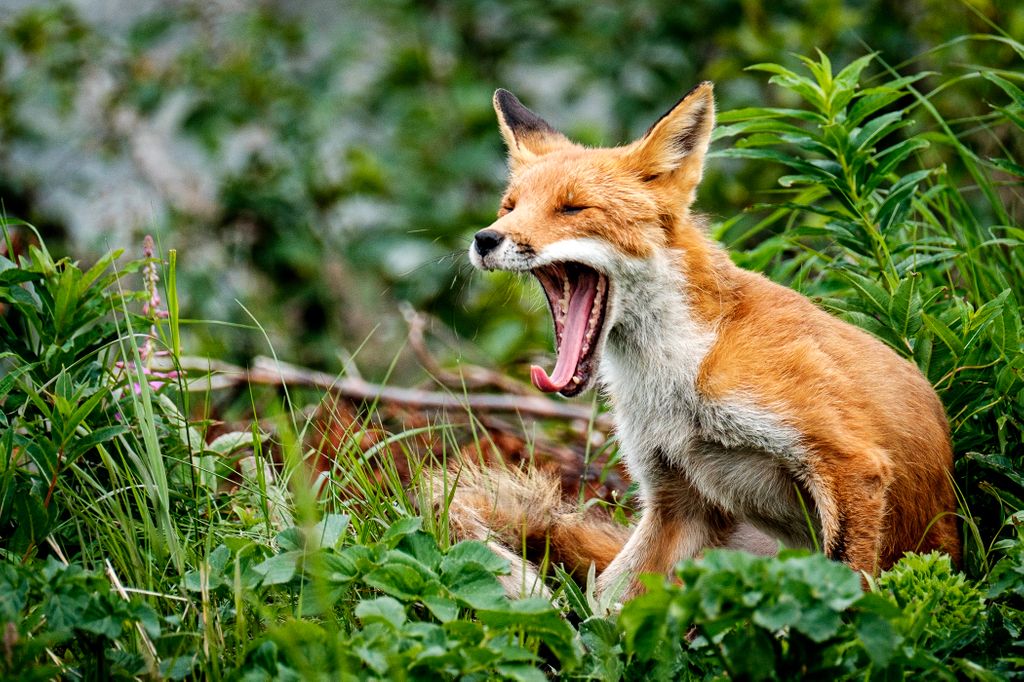 They're powerful, majestic, and adorable.
And they need your help.
Bristol Bay is one of the richest habitats in the world for the brown bear and countless other animals. But all those animals are now in jeopardy as a foreign company lobbies the federal government to build an industrial copper and gold mine in the middle of it.
They're reqesting a permit to, among other things, dump 2.5 to 10 billion tons of mine waste into the Bristol Bay watershed. That's enough industrial waste to bury the entire city of Seattle, Washington.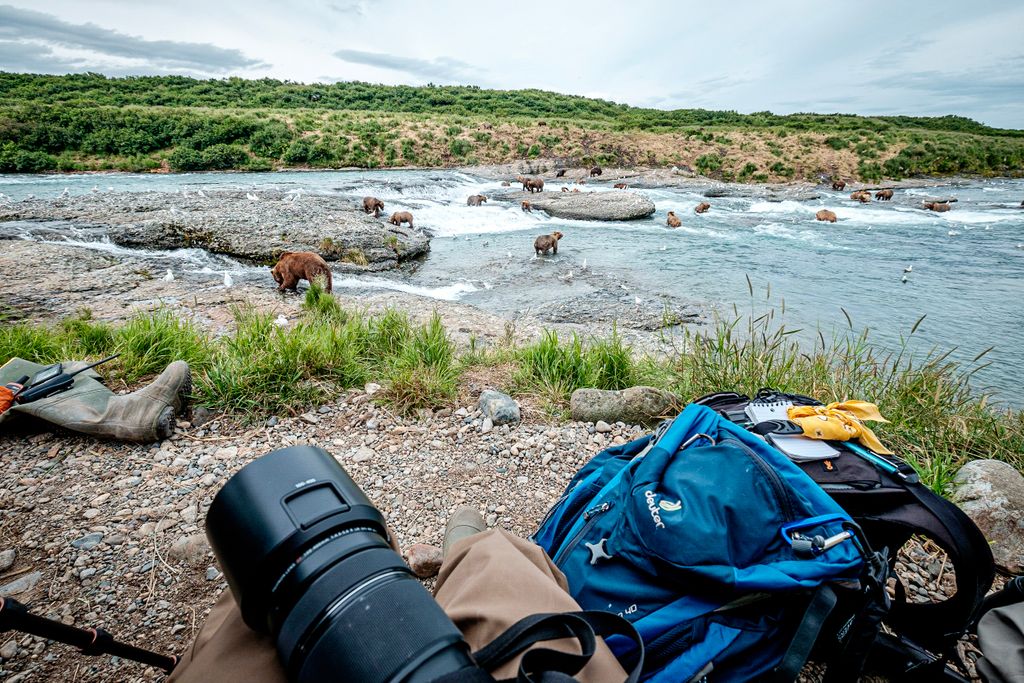 And it's not just nature that's at risk – the livelihoods of thouands of American families are at risk, too. The salmon that would be endangered by the mine not only feeds the bears, but feeds humans and supplies jobs.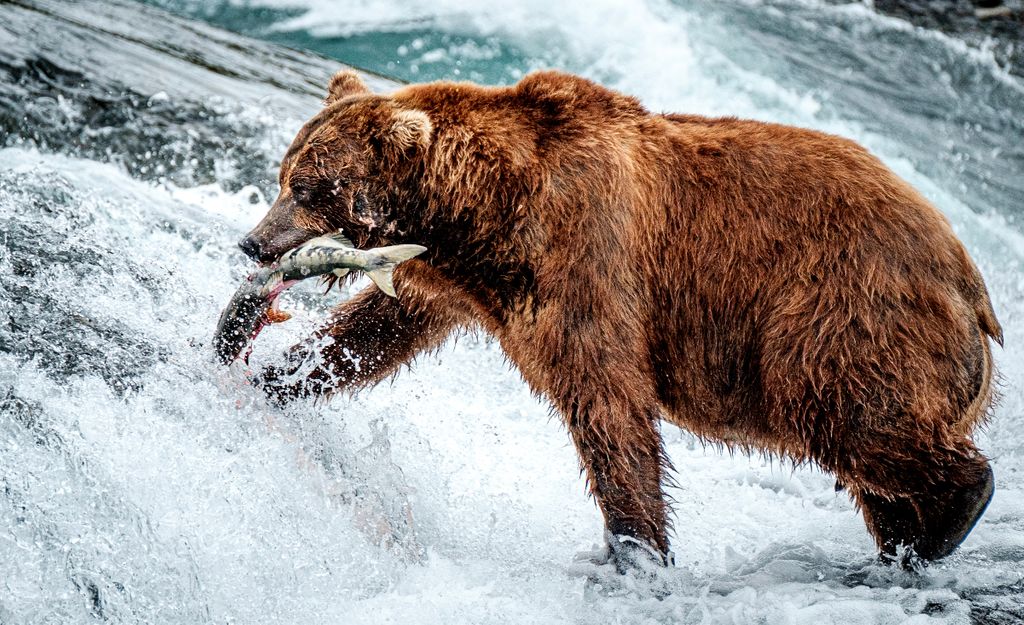 Bristol Bay is one of the world's last great salmon fisheries. Commerical fishermen, local tribes, sportsmen and women, and thouands of American businesses that provide Americans with jobs would all be threatened if an industrial mining operation is allowed to irrevocably damage this part of Alaska.
If you'd like to help protect these people – not to mention the incredible natural wonders here, and bears like Big Ears and Ivory Girl – please consider signing the petition to Save Bristol Bay.
I hope you've enjoyed seeing these beautiful living treasures. You have a voice in helping to keep these places safe for all of us, and all of the future.
Thank you!